Captain Dawson Wells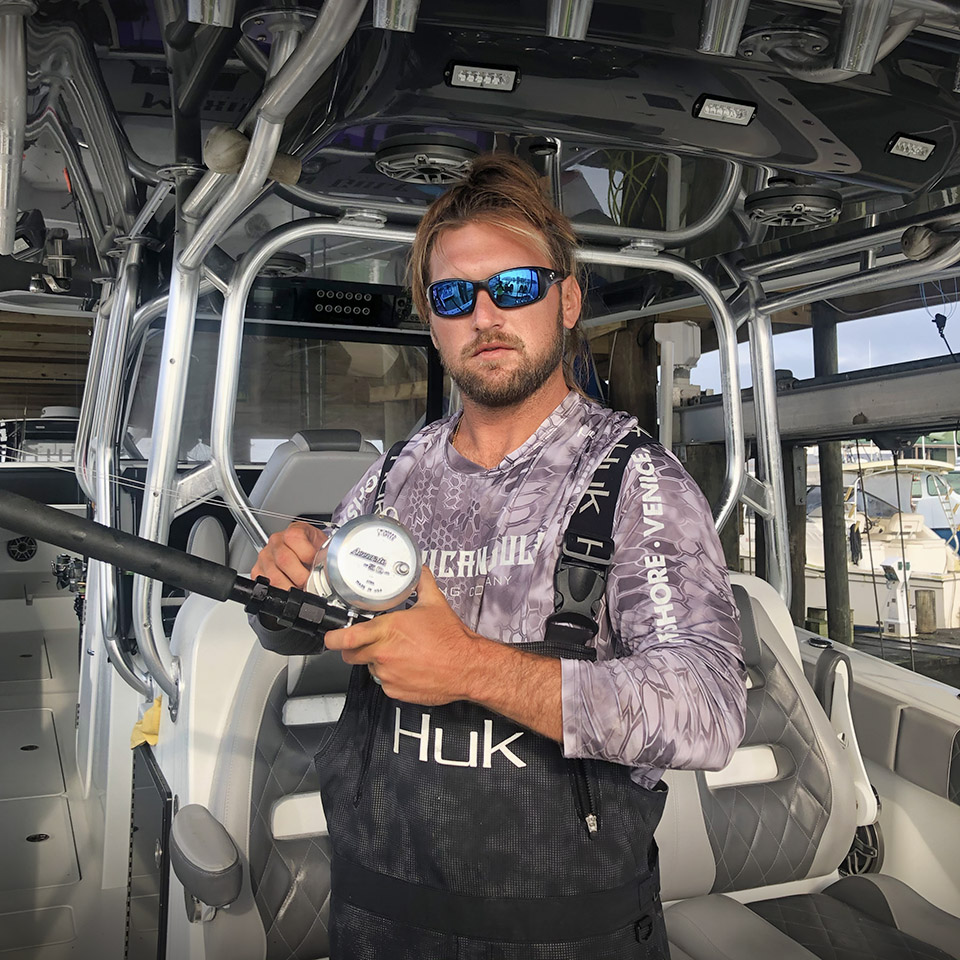 Duration: 10 Hours (approx.)
Location: Venice, Louisiana
Fish with Capt. Dawson Wells at The Mexican Gulf Fishing Company, on a 37ft Freeman.
$2300 + fuel per day for a blue water, offshore charter in the Gulf of Mexico out of Venice, LA. - Venice Marina.
Fuel average is 250 gallons per day, pay price at the dock
Note: A 4% processing fee is charged on all credit card orders. Charter trips are booked online and secured with a credit card. Deposits must be paid by credit card. Balances on each trip may be paid by cash or credit card.

Capt. Dawson looks forward to having you on board his 37-foot Freeman.

Dawson is from Ocean Springs, MS, and has been fishing all his life. He's been with MGFC since 2015.
"I grew up fishing in the Gulf of Mexico and enjoy sharing that experience/knowledge to take people from all over the world on a fishing trip of a lifetime and a good time right here in the gulf," says Captain Wells.
"You never know what you're going to see being a charter Captain in the Gulf of Mexico. There are so many different varietys of species of fish that you can target here and the fishing changes everyday. So you never really know what adventure you will be going on. And it makes me enjoy being a charter Captain everyday."
His favorite time to fish is later in the year October to December because the tunas are at big in size, the wahoos start showing back up and the mahis are still around.

One of the things he enjoys most about fishing from Venice, LA is the fact we can target so many different species. From Snapper, Grouper, Amberjack, and cobia to Tuna, Swordfish, Wahoo, and Mahi Mahi. "So whatever the people are wanting to target that day I'm all for it and we will try our hardest, catch a lot of fish and have a great time while doing it."
Anglers come to the Gulf for Yellowfin Tuna, Mahi Mahi (Dolphin), Cobia, Wahoo, varieties of Grouper, Red Snapper, Blackfin Tuna, Amberjack, Shark, and marlin. Capt. Dawson has experience putting customers on all those fish.
Offshore charters with MGFC include — but are not limited to — fishing the permanent oil rigs, which act as reefs for marine life, fishing the floaters, which are moving oil platforms, fishing the Lump, or trolling behind the shrimp boats when in season.
Book online with Capt. Wells. You'll be hooked.
Fish with us one day offshore, then one or two days inshore, and don't forget … we have lodging, too.

If weather is an issue, captains will call 2-3 days in advance of your trip.
Deposits are good for up to one year, and are non-refundable. To reschedule a weather-cancelled trip - send an email to us. A simple reply to your confirmation or follow-up emails, or use the contact form on our website to reschedule.